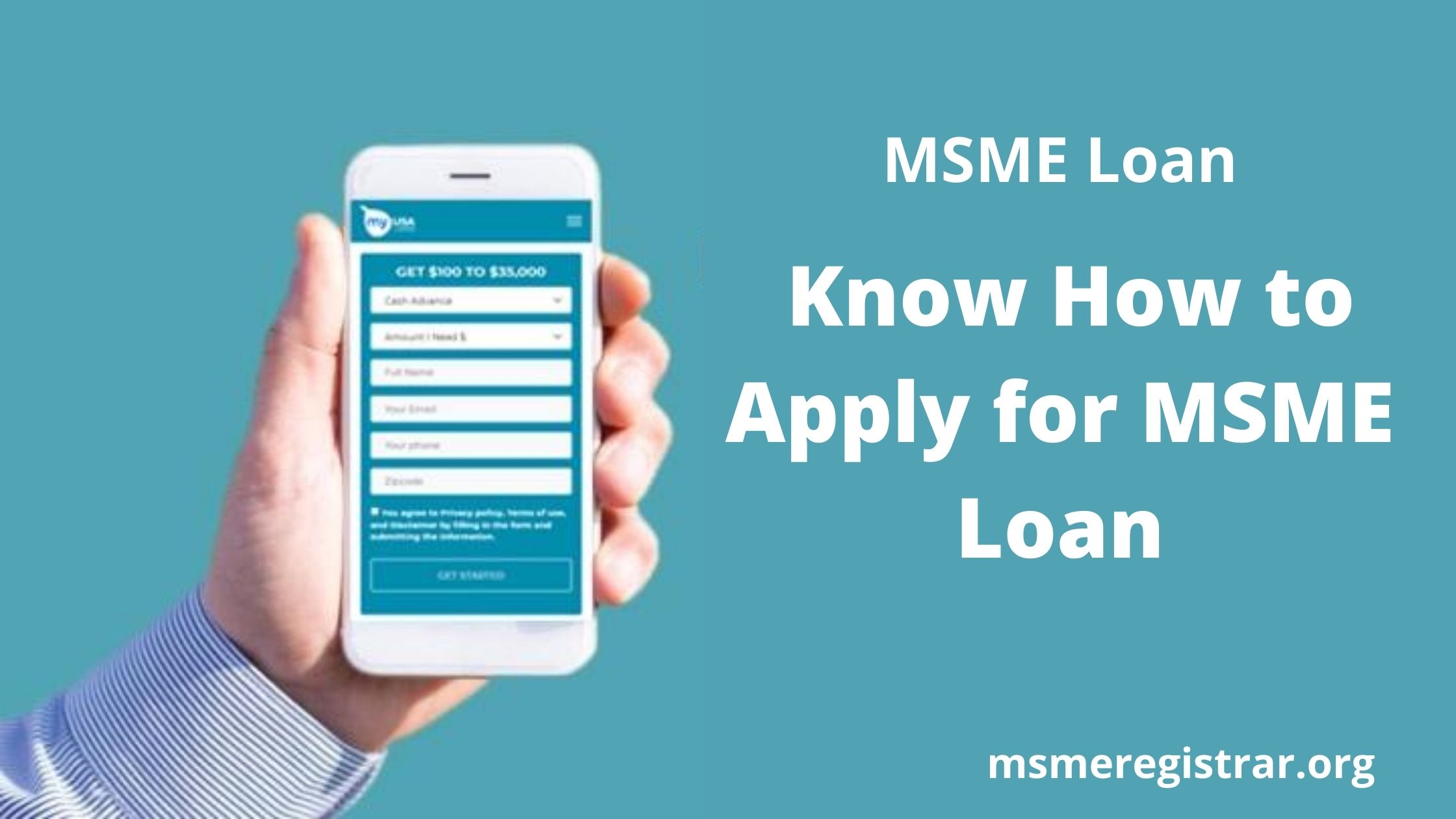 MSME Loan | Know How to Apply for MSME Loan
The micro, small and medium enterprises are the lifeblood of the country's economic structure. There are various types of enterprises under the sector which are greatly dependent on the loans which are issued by the central government and are required to bring out their businesses. The new business schemes which are being inaugurated in this section need a tremendous amount of financial support from the governmental authorities. There are various business practices that involve capital financing of different kinds and degrees in order to assist them out.
There are different loans that are available for organizations under micro, small, and medium businesses. They can be availed very easily if registration is done under the MSME market. The government offers a variety of schemes that can support business people who are associated with the MSME field.
MSME Loan Application
A unique application must be made by visiting the government website which is specifically designed for businessmen who are associated with micro, small and medium enterprises. There are various fields that must be covered in the application form in order for the business people to get access to the loan issued by the central government. MSME loan documents are highly important in order to get loans. These documents provide the identity proof of a user who is applying for the loan along with the details about his or her business. There must be clear documentation of each of these details in order to apply for the loan.
MSME loan application can be considered to be a very complex procedure if one directly approaches the government website. There are various types of information that must be entered in precise terms. It can prove to be quite complicated for any kind of business person who is not well versed in the field of technology. The application must be performed by a person who is aware of the technological aspects of online application for loans. The government website will prove to be difficult to operate for most users.
Who is eligible for MSME loan
Applicants running a business for at least three years are eligible to apply for an SME / MSME Loan. They also must be within the age range of 25 to 55 years and have their business' IT returns filed for at least the past One year.
Features of MSME Loan
MSME loans are an important source of funds for business owners who wish to expand or even set up small scale businesses. Some of the MSME Loan features are described as follows:
The MSME loans aim to facilitate the flow of credit in the MSME sector
These loans aim to bring a technical upgrade to the small business sector
MSME loans offer small-scale industry overall development through skills development and training programs
All lenders linked to small-scale businesses are given MSME loans: sole proprietorship companies, partnership firms, private limited companies, public limited firms. In addition, micro and small enterprises manufacturing or service-based are eligible except retailers, educational institutions, training institutions, farming and self-help groups.
The MSME loans are offered for a maximum period of 15 years.
The MSME loans can be both secured & unsecured, depending on the repayment ability of the borrower and the terms and conditions of the bank.
Like with interest rates, the number of the loan will also differ for both the lender and the borrower. This can not however raise Rs 500 crores.
MSME Loan Scheme 2020
Financial institutions which include banks and NBFCs provide MSME loans to Micro, Small, and Medium Enterprises ( MSMEs). The government also offers MSME loans with the aid of various schemes which are discussed further. Government schemes covered by MSME loans include Mudra Loan, CGTMSE, PMEGP, and so on. Such schemes ensure the country's new & established entrepreneurs get the financial assistance and financing they need for their companies.
Here, we have mentioned the MSME loan scheme 2020
MUDRA Loan
MUDRA (Micro Unit Development and Refinance Agency) was created to assist small business owners. MUDRA yojana is further categorized as Shishu, Kishore, and Tarun among the three categories listed.
Maximum Loan Amount: Upto Rs 10 Lakh
Under SHISHU Category: Loans up to Rs. 50,000
Under KISHOR Category: Loans from Rs. 50,001 to Rs. 500,000
Under TARUN Category: Loans from Rs. 500,001 to Rs. 10,00,000
Maximum repayment tenure of each loan classification for up to 5 years.
Apply For Project Report for Mudra Loan: Click here -
CGTMSE (Credit Guarantee Funds Trust for Micro and Small Enterprises
CGTMSE (Credit Guarantee Funds Trust for Micro and Small Enterprises) was introduced to establish a strong credit relief program and to encourage a better credit flow for the MSME industry. The loan is guaranteed under the CGTMSE scheme without any external collateral or third-party guarantee.
The Member Lending Institution (MLI) approved MSME loan is backed by the scheme that offers the guarantee cover for a large portion of the loan sum. Under the CGTMSE scheme, new and established medium-, small- and micro-enterprises, including service enterprises, are eligible for a maximum Rs . 2 crore credit limit.



The units also provide rehabilitation assistance from CGTMSE. Any MSME unit that is in bad condition due to outside management control is funded by recovery help from CGTMSE rehabilitation assistance. The maximum credit cap of Rs. 1 crore is offered to the dilapidated MSME units.




Follow this Step to get MSME Loan from Bank:

You can follow our msmeregistrar.org agency. We will help and guide you to get a loan from the bank for your business. Get a free consultation for an MSME loan.


Step 1: Visit MSME Registration Official Website.


Step 2: Next, you will be asked to fill in the information such as the Applicant 's Name, Adhaar number, etc. Once all the necessary information has been added, you'll be asked to click on validate.


Step 3: Next, make the application fees and get a project report and detailed help note.


Step 4: We will submit 25 different types of project reports, you can pick the one you want and apply for the loan


Step 5: With the help of project reports and information guidance note, you can get a loan from the bank

Get Detailed Loan Project Report Now!

About now you have to wonder if the msmeregistrar.org web site can be included in this chapter. The MSME business loan applications are difficult to make and our website will help you do that in the most appropriate way.



We have an outstanding team of technicians and marketing specialists who will study the best approach for you to get the loan application completed. Government websites, as you would know, can be difficult to use for a layman who is not well versed in terms relevant to the technological and business aspects.





There are people from diverse backgrounds seeking to start their own business and having the least technological knowledge. It is almost difficult for them to take advantage of a loan that can be of benefit to them.





We 're here to support you via the complete procedure. You will provide us with the appropriate customer details and the information needed to meet the loan application requirements. Msmeregistrar.org is a website benefiting from a large number of client reviews that measured the benefits of interacting with this organization.



You do not have anything to do, once you are affiliated with us, other than to provide us with appropriate documents. We'll get your loan application completed within a very short time period and in a very cost-effective way. It is our duty to test whether or not your application for a loan is presented correctly.