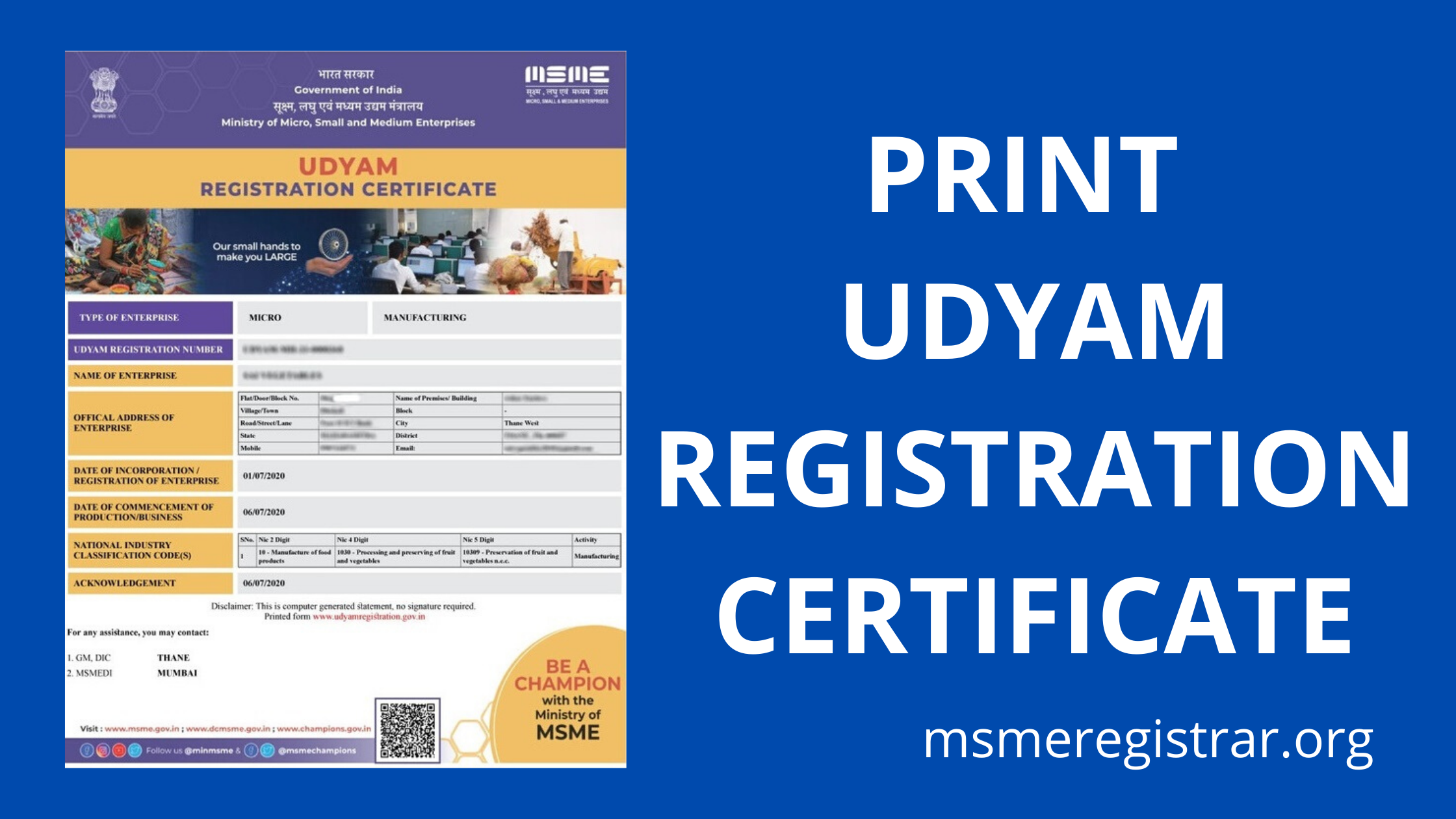 Udyam Registration Print
The Ministry Of MSME of India began an initiative for the enlistment of MSME. The task got live on the first of July 2020. The venture has been named as MSME Udyam prior to the notification it was known as Udyog Aadhaar. The Government Of India announced that the initiative will be completely on basis of self-declaration. Any entrepreneurs won't have to upload any documents or proof except the Aadhaar number for registration

That simply means for registering your company as UDYAM Registration all you need is a valid Aadhaar Number. For registering under this MSME initiative, one has to visit msmeregistrar.org. Our Udyam Registration expert will assist you with a stepwise guideline on how to fill up the form for this process.
Udyam Registration Print Process
STEP 1: Visit Udyam Registration Portal for registering under the MSME initiative.
STEP 2: Enter the details for fulfilling the form for Udyam Registration Process.
STEP 3: Make the payment for your Udyam Registration Application online .
STEP 4: One of the enlistment administrators will process your Udyam Registration application
STEP 5: In 2 working hours you will receive your Udyam Registration certificate in your registered email address with your personal Udyam Registration number.
STEP 6: Click on Print Udyam Registration Certificate to get your Udyam e-certificate.
Make sure you have a Printer Connection with your Laptop or Computer to Print Udyam Registration Certificate.
Re-classification Of Enterprises Under Udyam
Under Udyam, enterprises are classified into three categories. The Government Of India has re-classified the ceiling limits and the higher limits of investment in machinery and equipment according to investment or turnover declared by the Ministry Of MSME. Present category for investment in Plant and machinery equipments are as follow:-
Micro Scale: Investment in plant and machinery equipments ought to be Less than ₹1 Crore and Turnover Less than ₹5 Crore
Small Scale: Investment under ₹10 Crore and Turnover under ₹50 Crore
Medium Scale: Investment under ₹50 Crore and Turnover under ₹250 Crore
For Currently Existing Enterprises
Every current undertaking enrolled under EM–Part-II or UAM will enlist again on the Udyam Registration entryway on or after the first day of July, 2020.
All undertakings enlisted till 30th June 2020, will be renamed as per this notification
The current endeavors enlisted before 30th June 2020, will keep on being mean just for a period up to the 31stday of March 2021.
An endeavor enlisted with some other association under the Ministry of Micro, Small and Medium Enterprises will enlist itself under Udyam Registration.
Documents Required For Udyam registration
A personal unique Aadhaar number is required in case of a proprietorship firm.
In the case of a proprietorship firm, of the managing partner in the case of a partnership firm and of a karta in the case of a Hindu Undivided Family (HUF), the Adhaar number should be of the specific person in each condition.
PAN and GSTIN and along with its Aadhaar number,in case of a Company or a Limited Liability Partnership or a Cooperative Society or a Society or a Trust, the organisation or its authorized signatory shall be provided by the specific organization.
PAN shall be filled up on a self-declaration basis, just in case of an enterprise which is duly registered as an Udyam with PAN if there is any deficiency of data for previous years.
Udyam Registration shall not be filed more than once by any companies or enterprises : Any number of activities including manufacturing or service or both is also specified or added in one Udyam Registration.
Udyam Registration Benefits Under MSME initiative
These are some benefits of Udyam Registration introduced by the Government Of India under MSME
It allows your business to be enrolled under the strategies of both the state and the central government.
Free selection which suggests most extraordinary points of interest for zero endeavor.
Medium or free endeavors can apply.
Less complex to benefit focal points, for instance, sponsorships and concessions given by both within the state.
As an enrolled business, getting bank propels for your business will get less complex.
An ensured free home credit which suggests less issue.
A diminishing in any bank's pace of excitement against credits.
Any deferral in repayment will be guaranteed.
It gets more straightforward to begin a business account once you have enrolled for Udyam Aadhaar.
IPS enrichment capability for your business.
You can without a doubt enroll for the widespread trade fairs once you have gotten your Udyam Aadhaar number. You will similarly acknowledge particular tendencies with respect to trade fairs.
The Ministry Of MSME has announced the MSME initiative to enhance the entrepreneurship skill development programme for the people who want to start their small business with no experience.

For any more queries or information or any kind of doubts related to Udyam Registration you can visit msmeregistrar.org. You can also get in touch with our Udyam Registration expert.