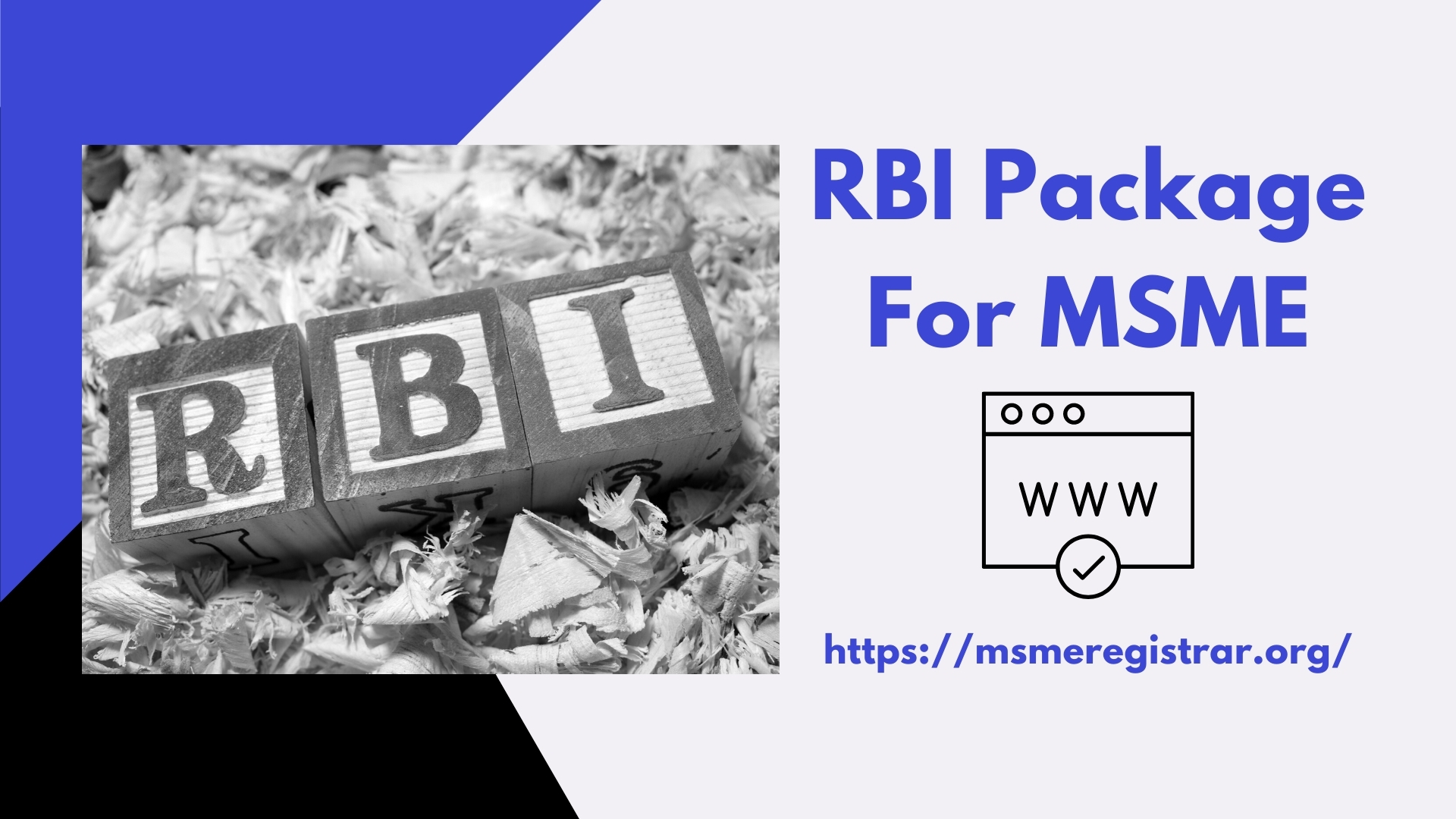 RBI Package For MSME
MSME is the backbone of the Indian economy. The COVID-19 phase is a tough time, for everyone. The workload and the stress of continuing in the coming times is big. People are trying everything to reduce the stress, this is not the time to feel upset about the situation going on for some people. Here in this article, the focus will be on the RBI Package For MSME. Many things have affected and there are going to be many more. This is one of the most concerning things to the government and also RBI.
Generally, RBI doesn't sanction anything in the middle of the year. RBI passes a budget once every year but this year was not the same. The pandemic has made everything so different. We can say that MSMEs are the base on which the economy of our country is standing. Without this, there would be nothing. They have always made products that are used by every person. They are the producers of cotton, raw materials for various big industries, and raw cooking oils. These things are now completely at a halt.
RBI Committee On MSME Sanctions Package
Recently, RBI sanctioned a targeted long-term repo operation worth 50,000 crores. This is to provide relief to the MSMEs so that they can maintain their cash flow. These enterprises are facing great losses at these moments. It would be a tragedy if even some of them have to close themselves down. They control the flow of the supply chain and also provide employment to so many people in the country.
The RBI Package For MSME might be a bit less but any help at this time could be welcomed and that is what they did this. MSMEs have welcomed this decision by RBI. There are already many areas in which the lockdown has been lifted and we wish that this gets listed everywhere after the 18th of May. Some industries are not at all functioning because they are not allowed or are in the red zone. These enterprises are the ones that need help more than any type of industry at this point. The government has also decided to help these enterprises to the best of their capability. They will be raising a fund that will help them in paying wages to their employees and buy important resources like raw materials. If there is a shortage of something then that will be fulfilled by the government too.
RBI Moratorium
RBI, on the other hand, has already decided to give all the people in India a moratorium of 3 months. According to it, the people who are in financial crisis can pay their 3 months' EMI after the lockdown month that is May. There will be no extra charges or penalties for paying the amount. This has provided relief to many people who were stressed about how they will pay their loans. This is something that no one was expecting hence, everyone needs got relief from at least the financial pressure.
Other Problems Of MSME's
This will be a problem, not just for the enterprises but also for the employees. These people will be left with nothing to live on. If the MSMEs run out of money they will either have to cut on the number of employees or their salary. Both conditions will decrease motivation and will impact productivity a lot. The coming time will be the time when enterprises will need to work with more efficiency and for that, they will need monetary support.

This may be in terms of credits but with a longer duration or maybe less interest. This will help them stand tall again and support the economy of the country. They are the ones who support the farmers, the day-to-day necessities of people, big enterprises, the wholesalers in the market, and the retailers in the market.

They are doing all they can not just to earn profit for themselves but also to pay so many workers who would have been left with nothing if MSMEs were not there. During this, RBI Package For MSME has provided good support. The policies made by the government have favored them but they are also working hard to sustain.
Big enterprises are capable enough of overtaking any market and that is why the government decided to reserve the production of some products for MSMEs only. This was for equity. There cannot be quality in big and small enterprises. The government did a great job taking this decision. If the big enterprises are also allowed to produce the same types of goods then small ones will be left with nothing.

They do not have a digital market, or brand ambassadors to endorse their product, They have to do everything on their own. They have to be their helpers, marketers, delivery agents, and whatnot. These people have faced a lot in the lockdown and are praying that it finally gets lifted on the 8th of May. The world has been closed inside their homes for the past three months, our country has also seen the same for 2 months now.

We need to start living in these situations while keeping in mind that we still have to maintain social distancing. The economies will collapse and will take forever to stand again if the economic activities are still not started. 2 months is already a big time and now the world needs to start working again.
Get Registered Now To Get The Benefits OF RBI Package For Registered MSME
RBI might not have sanctioned as much as the MSMEs expected them to but RBI Package For MSMEs has still provided some relief. This is something that will also not become a burden as it is a long-term project and will help the enterprises to stand up in this tough time.

The time is to think positively and move ahead with whatever is available. This is the time when the country needs to support the MSMEs. Buying their products and availing their services is something that everyone can do. People can also pay the fund that is being raised by the government for MSMEs.
How msmeregistrar.org can help you?
To gain all the services and benefits that the government and RBI offer to MSMEs, they need to be registered with them. They can either do it themselves but because there are many things that go on in these industries, this should be done with some help. Our website msmeregistrar.org can do the job for you. We are trusted and registered and we have experience in handling all the activities related to the registration of MSMEs.
We provide services for instant MSME certification of these enterprises. Our services are fast and affordable too. We have a great support staff that makes the business person understand all the benefits of MSME registration with various government programs like Udyog Aadhar. For business people, you must contact us at msmeregistrar.org and get the application page on our portal filled with your basic details. Through this, our support will contact you and you will be able to apply for the benefits of the RBI Package For MSME.