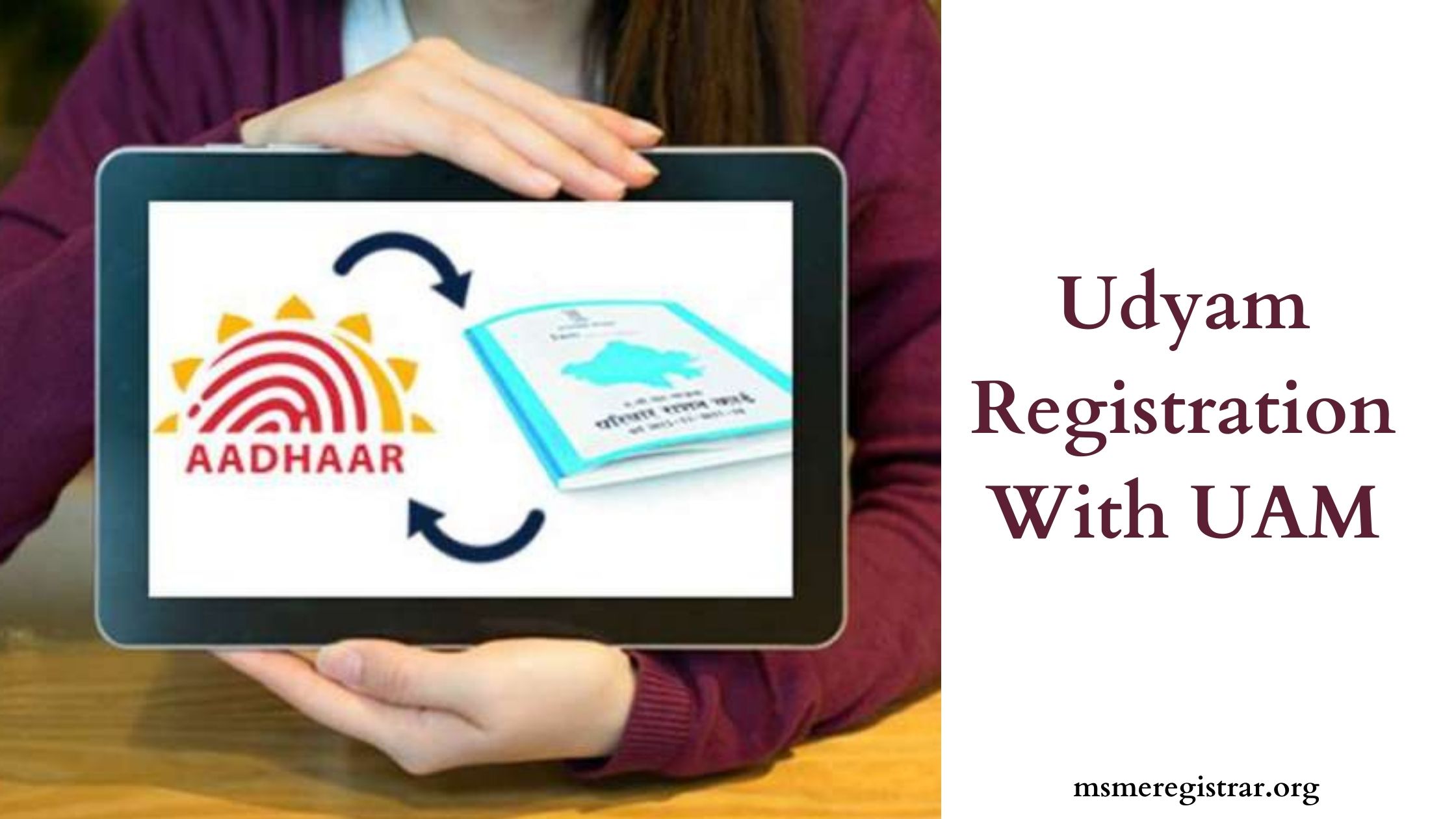 Udyam Registration With UAM
The ministry of MSME declared a new registration process know as Udyam registration, and all the existing Udyog Aadhaar certificate holders should re-register again on the new Udyam registration portal. All existing micro small medium enterprises registered under Udyog Aadhaar shall register again on the Udyam Registration by 31 March 2021.

Micro Enterprise units: Registered business under the MSME sector will be called Micro-Enterprise units if they have investments up to Rs 1 crore and turnover of less than Rs 5 crore. The definition earlier was on investment criteria of up to Rs 10 lakh for Service MSMEs earlier and Rs 25 lakh or manufacturing.

Small Enterprise units: For an MSME to be defined as a Small unit, its investment limit has been raised from Rs 5 crore to Rs 10 crore with a turnover of less than 50 crores. This applies to all MSMEs including the Service enterprises which earlier came under investment of up to Rs 2 crore.

Medium Enterprise units: Enterprises with investments up to Rs 50 crore with a turnover of less than Rs 250 crore will now be called Medium units. Earlier, the investment limit for Medium units was up to Rs 10 crore and for Service enterprises up to Rs 5 crore.
Udyam Registration Memorandum
The new easy process is very simple, for all units which are eligible to get covered under the new definition of MSME's provided by the GOVERNMENT OF INDIA.
Advantage Udyam Registration
All existing small-medium business enterprises registered under EM–Part-II or UAM shall register again on the
New MSME Registration
portal on or after the 1st day of July 2020
All the new or old enterprises registered till 30th June 2020, shall be reclassified in accordance with this notification.


The existing enterprises registered prior to 30th June 2020, shall continue to be valid only for a period up to the 31st of March 2021.


An enterprise registered with any other organization under the Ministry of Micro, Small, and Medium Enterprises shall register itself under Udyam Registration.


Fill in all the details on the re-registration existing Udyog Aadhaar form as per your business sector like the proprietor, pvt ltd, partnership firm, public limited.
We are private professionals providing registration services related to MSME/ Udyam/ Udyog Aadhaar, Compliance under one roof. We have a good experience with the tax and legal implications that come with each business entity type and give our clients the guidance they need to ensure they are setting up the right type of business.

Youtube Channel: Udyam Register
Facebook Page: msmeregistrar.org