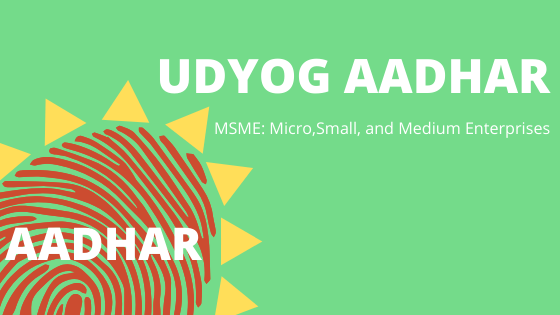 What Is Udyog Aadhar Memorandum? Why It Is Must For Business?
With more than 42.5 million units, the Small and Medium sector or SME sector is considered to be the pillar of India's economic development. The SME sector contributes to more than 45% of the total Indian manufacturing output. Keeping in mind the efforts of this sector, the Ministry of Micro, Small and Medium Enterprises India, under the able supervision of the Government of India, launched the Udyog Aadhaar facility. As many as 79,65,984 enterprises are registered on Udyog Aadhar Portal up to 15 November 2019. (This report was published by Shri Nitin Gadkari, Union Minister for Micro, Small and Medium Enterprises).

Now several questions can come into your mind such as what is the Udyog Aadhar certificate? How Udyog Aadhar registration can be done? Is it possible to do Udyog Aadhar online? Don't worry. We will solve all your queries today and explain to you all the benefits of Udyog Aadhaar so that you can uninterruptedly access all the basic facilities of an Indian citizen.
What Is Udyog Aadhar? When Was It Established?
The Ministry of Micro, Small and Medium Enterprises launched the Udyog Aadhaar scheme way back in September 2015. The main aim was to promote the interest of the micro, small and medium enterprises, operating all over India. The Udyog Aadhar registration is free of cost. Udyog Aadhaar is a twelve-digit Unique Identification Number issued by the Government of India for business purposes. It is a unique identification system mainly used for small and medium scale business.
Benefits of Registering Under Udyog Aadhar
The Udyog Aadhar registration is simple and it requires less paperwork, thereby saving your time and money. The Udyog Aadhar online scheme brings you a plethora of benefits to all people operating in small, micro and medium-sized businesses. Let's look at some of the benefits of registering under Udyog Aadhar for business houses.
After getting the Udyog Aadhar registration certificate, the company gets a huge excise benefit.
When the Udyog Aadhar certificate is granted, the registered business house can opt for a credit guarantee scheme.
The business owners get a complete exemption from direct tax laws.
Most business houses require a huge amount of electricity. A Udyog Aadhar Registration enterprise gets a good amount of concession on the electricity bill.
Once a firm is issued the Udyog Aadhar Certificate, it is considered as an MSME. Now it can avail a wide range of government scheme facilities such as easy loans, non-guaranteed loans, and low-interest rates.
When a Udyog Aadhar enterprise takes part in any foreign expos or trade fair, it gets financial assistance and miscellaneous benefits from the Indian government.
List of Documents Required!
A firm can enroll in Udyog Aadhar online. We present to you the list of data that are mandatory for getting Udyog Aadhar certificate without any hassles.
Personal Aadhaar number
Owners name
Category of the business owner
Business name
Business type
All details related to banks
National Industrial Classification code
Total number of employees
Detailed information of District Industry Centre (DIC)
Starting date of business
What is Udyog Aadhar Registration Process?
Step 1: Visit the Udyog Aadhar Registration Website
Step2: Fill all the details on Udyog Aadhar Registration Form
Step3: Make the online payment for your Udyog Aadhar Application
Step4: One of the registration executives will process your Udyog Aadhaar application
Step5: In 2 working days you will receive your Udyog Aadhaar certificate in your registered e-mail address
Apply for Udyog Aadhar Today!
Now after reading this blog, you must have understood the significance of having a valid Udyog Aadhar Certificate for your business. The Udyog Aadhar Online process is easy and non-complicated as the only legal document required to register a trade under Udyog Aadhar is the Aadhar card which makes the process extremely fast.

However, it is important to fill the form carefully and avoid any mistakes. A Udyog Aadhar certificate makes sure that the business firm utilizes all the advantages the government provides to MSME. Grab this opportunity now and give your business the much-needed boost.
About msmeregistrar.org
We are a team of a professional providing services related to MSME/ GST/ ISO/ Company Registrations, Compliance under one roof. We have a strong grasp of the tax and legal implications that come with each business entity type and give our clients the guidance they need to ensure they are setting up the right type of business.

Our mission to making it easier for Entrepreneurs and start-ups to start and manage their business which includes business registration, get the requisite license and post-incorporation compliance services. Over a period of time, we have helped start and operate thousands of businesses by offering a wide range of business services.

We just focus to provide one-click access to individuals and businesses for all their legal and professional needs.

We help business with all types of government official services including the following:
MSME REGISTARTION
UDYOG AADHAAR REGISTRATION
UDYAM REGISTARTION
RE-REGISTARTION UNDER UDYAM
PRINT UDYAM CERTIFICATE
Get your company certified with ease, super fast service, hassle-free, competitive rates, lifetime valid certificates, free consultation. In case of any queries, reach out to us just by filling up the enquiry form and one of our executives will call you through MSME helpline number.